Found 2 talks width keyword solar wind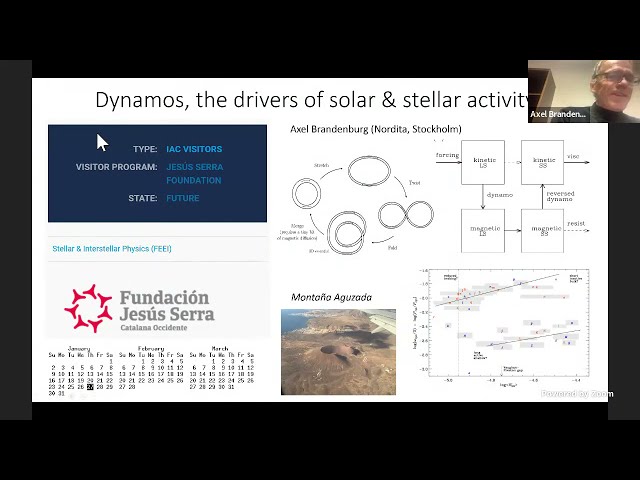 Thursday January 27, 2022
Nordita (Sweden)
Abstract
Following Cowling's anti-dynamo theorem of 1933, there was a long period during which the very existence of dynamos was unclear. Even with the emergence of three dimensional simulations in the late 1980s, people were careful to distinguish true dynamos from just some sort of amplification. Meanwhile, we know of many examples of true dynamos - not only from simulations, but also from several laboratory experiments. Nevertheless, there are still problems, fundamental ones and also very practical ones. After all, we are really not sure how the solar dynamo works. Today, global three-dimensional simulations seem to have an easier time to reproduce the behaviors of superactive stars, but not really the group of inactive stars, to which also the Sun belongs. The Sun itself may actually be special; it has so well defined cycles and it is at the brink of becoming very different. Theoretically, slightly slower rotators should have antisolar rotation, but it is possible that some of those stars never become that slow if stellar breaking ceases for some reason. Sun and starspots are very evident indicators of solar and stellar activity. Their formation is also not well understood. Polarimetry reveals their magnetic helicity, which can be detected even with the solar wind.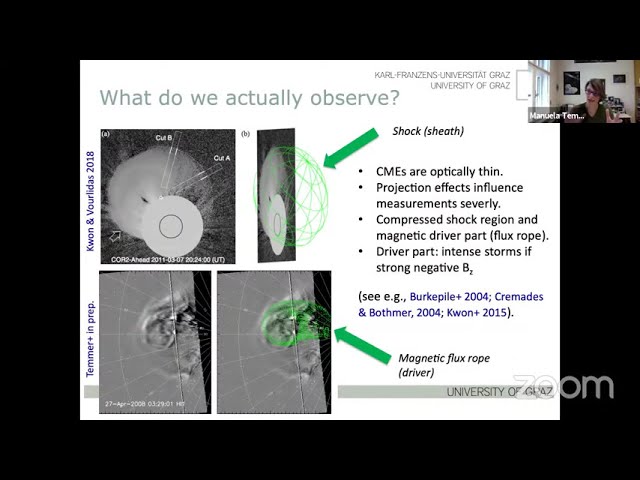 Tuesday June 2, 2020
Institute of Physics, University of Graz
Abstract
The Sun is an active star that influences the Earth as well as the entire solar system. Most dynamic phenomena on the Sun are observed as coronal mass ejections (CMEs) and flares. CMEs present massive clouds of magnetized plasma having speeds up to a few thousand km/s, that may propagate over Sun-Earth distance within less than a day and may cause strong geomagnetic disturbances at Earth (Space Weather). As CMEs are optically thin, using remote sensing data measurements of intrinsic properties such as speed, width, propagation direction, density etc. are severely affected by projection effects. By combining image data with in-situ measurements, valuable information is provided enabling CME 3D analyzes, and with that facilitate a better quantification of the uncertainties in the observational measurements that are used to feed CME propagation models. With that, a much better understanding of CMEs as they propagate in interplanetary space could be gained.

The talk will cover the physisc about CME-flare phenomena, the interplanetary propagation behavior of CMEs related to the background solar wind, and Space Weather forecasting.
Zoom link: https://rediris.zoom.us/j/92170419398
« Newer
Older »
Próximas charlas
TBD

Thursday December 14, 2023 - 10:30 GMT (Aula)

GESCOP

Thursday January 18, 2024 - 10:30 GMT (Aula)
Últimos Coloquios
Últimas charlas